Description
Additional information
Description
NEW Powerful MAG 254 IPTV Box Media Streamer FULL HD TV 3D Video UPDATED MAG 250
Wifi dongle NOT included !
*** Для заказов в Израиле 053-3014467
***
No FREE channels inside !
IPTV SET-TOP BOX MAG254
MAG 254 is a powerful Set-Top Box
with efficient processor STiH7 and increased RAM memory, and it is an
optimal solution for IPTV/OTT projects.
The Set-Top Box is designed to fulfill business projects of internet
providers, OTT operators and content aggregators.
The increased productivity of MAG 254 enables to use
resource-intensive interactive applications and support 3D-video.
STiH7 650Mhz, Linux 2.6.23, Composite AV, HDMI 1.4, USB x 2, S/PDIF, LAN, USB WiFi Dongle
Fast and Powerful
The Support of 3D-video
MAG 254 supports video playback in 3D format, which is recently becoming more and more popular.
High Quality of Sound and Image
The audio output S/PDIF allows
connecting multichannel HighEnd system to the Set-Top Box. HDMI 1.4A
provides the highest quality of sound and image.
Quick Data Processing
Thanks to its power and high
performance components, our Set-Top Box MAG 254 can efficiently
process big data files, including high resolution digital video
operations.
Functions on Demand
MAG 254 plays the latest
audio and video formats and it supports subtitles,format and image
settings, choice of audio track and work with the playlists.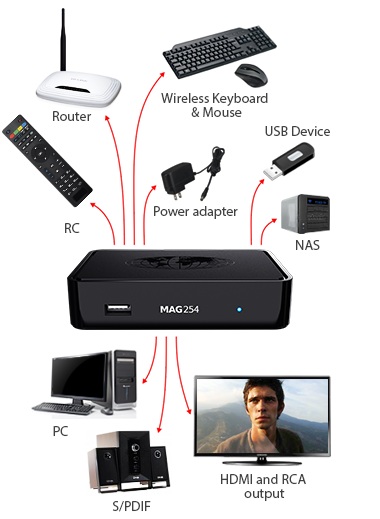 Wide Variety of Opportunities
Total Comfort
The multi-purpose remote control
allows managing not only the Set-Top Box, but also it can operate other
pieces of household appliances. You can connect a wireless keyboard and
mouse through USB port for more comfort in operating MAG 254.
Compatibility With Any TV System
The Set-Top Box MAG 254 can
be connected both through HDMI and RCA cables. This way any TV model can
be connected to our Set-Top Box.
Safety
The availability of the CE, FCC
and UL certificates confirms that all Infomir products are safe for the
health and completely harmless for the environment.
Easy Exploitation
MAG 254 can be set-up, operated and monitored through JavaScriptAPI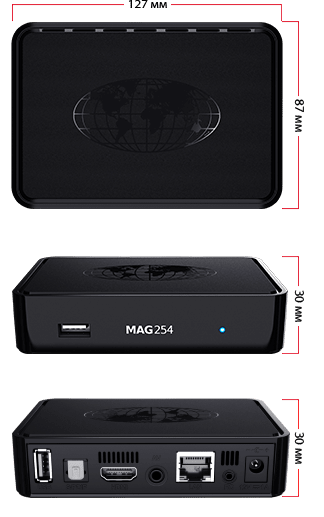 Specifications
Dimensions
| | |
| --- | --- |
| Width/depth/height, (mm): | 127/87/30 |
| Weight, g: | 190 |
Hardware
| | |
| --- | --- |
| Processor: | STiH7 |
| RAM: | 512 Mb |
| Flash memory: | 256 Mb |
Software
Operating system:
Linux 2.6.23
Built-in
Media Portal with WebKit-based IPTV-functionality HTTP 1.1, HTML 4.01
XHTML 1.0/1.1; DOM 1, 2, 3, CSS 1, 2, 3; XML 1.0, XSLT 1.0, XPath 1.0 ;
SOAP 1.1; JavaScript ECMA-262, revision 5; Media JavaScript API; C layer
SDK
DRM option:
Secure Media, Verimatrix
Middleware supported:
Stalker, Netup, SmartLabs, Netris, Beenius
Interfaces
| | |
| --- | --- |
| | Audio output S/PDIF HDMI 1.4-output Composite + stereo A/V output Ethernet 100 Mb/s USB 2.0 (WiFi-adapter can be connected) |
Sources of media content
| | |
| --- | --- |
| | PC and NAS in local network Stream media protocols (RTSP, RTP, UDP, IGMP, HTTP) USB-devices |
Audio&Video
Audio сodecs:
MPEG-1
layer I/II, MPEG-2 layer II, MPEG-2 layer III (mp3), MPEG-2 AAC
(optional), MPEG-4 AAC LC 2-ch/5.1ch (optional), MPEG-4 AAC+SBR
2-h/5.1ch (optional), Dolby Digital (optional), DTS (optional)
Audio formats:
MP3, MPA, M4A, WMA (optional), Ogg, WAV, AAC
Video modes:
1080i, 1080p, 7p, 576p, 480р, PAL, NTSC
Video сodecs:
MPEG1/2
MP@HL, H.264 HP@level 4.1, MPEG4 part 2 (ASP), WMV-9 (optional), VC1
video, XviD; 3D and HD video supporting (up to 40 Mbit / s and above)
Video containers:
MKV, MPEG-TS, MPEG-PS, M2TS, VOB, AVI, MOV, MP4, ASF, QT, WMV
Image formats:
JPEG, PNG, BMP, GIF, RAW
Subtitles:
DVB, SRT, text MKV
Playlist formats:
M3U
Standard set
MAG254 Set-Top Box, user manual, Mini jack cable to RCA (A/V), Power adapter 12V 1A, remote control (Comes with EU Plug), 2 AAA batteries, packaging
HDMI cable NOT included !
Additional information
| | |
| --- | --- |
| UPC | Does not apply |
| MPN | Does Not Apply |
| Brand | Infomir |