Description
Additional information
Description
This is the newest model Infomir Mag254 (w1) in original retail packaging with built in wireless (150Mbps) WiFi, remote, user manual, and a three month HD IPTV subscription with over 3100 Live TV channels from all around the world (English, Spanish, French, German, Italian, Russian, Portuguese, Brazilian, Filipino, Greek, Arabic, Pakistani, Hindi, Bangla, Tamil, Punjabi, Nepal, Urdu, Marathi, Malayalam, Kannada, Telugu, Polish, Turkish, SPORTS, MUSIC, and MUCH MORE!) and over 7500 TV shows and movies with Video on Demand! AMAZING! I guarantee satisfaction or your money back! FREE SHIPPING!
This is the only IPTV service available with Full HD channels. Don't get fooled with other distributors that give you very poor quality IPTV streams that buffer heavily and are here today and gone tomorrow; I use the very best HD IPTV service available. This IPTV service also streams the Network Channels (CBS, NBC, ABC, FOX, and WB) from both the west coast and east coast; the best of both worlds!
If you are planning to use it on WiFi, then you should download a WiFi analyzer app (http://wifianalyzer.mobi) and make sure your signal is steady near your TV with at least 60 dBm; otherwise it may buffer. If your WiFi signal is too weak, then either purchase a WiFi extender and retest it or connect directly to your router using an Ethernet cable. The IPTV service has no buffering at all and streams mostly HD; some channels are now streaming in 4K. It's all about your internet connection!
Checkout the following videos showing the high quality HD IPTV service programmed on the boxes:
I program and setup your box so it is literally plug and play! Connect the power cable to the box, HDMI cable from the box to the TV, and either Ethernet cable or WiFi to connect to the internet. Then power on the box and it will stream the last TV channel viewed without any additional button pressing. I've also included detailed written instructions of how to connect to your WiFi and how to use the box. I will provide you with continued support should you need it on your journey to cut the cable! My customers are welcome to contact me anytime with questions; I will take great care of you!
English Channel List:
Stream Over 3000 Movies:

Sports Channel List:
Kids Channel List:
Spanish Channel List:
Filipino Channel List:
Hindi Channel List:
Bangla Channel List:
Gujarati Channel List:
Kanada Channel List:
Malayalam Channel List:
Marathi Channel List:
Nepali Channel List:
Punjabi Channel List:
Tamil Channel List:
Telugu Channel List:
Arabic Channel List:
Portuguese / Brazilian Channel List:
German Channel List:
French Channel List:
Turkish Channel List:
Italian Channel List:
Polish Channel List:
Dutch Channel List:
Greek Channel List:
African Channel List:
Adult Channel List:
The MAG 254 is a powerful Set-Top Box with efficient processor STiH7 and increased RAM memory, and it is an optimal solution for IPTV/OTT projects. The Set-Top Box is designed to fulfill business projects of internet providers, OTT operators and content aggregators. The increased productivity of MAG 254 enables to use resource-intensive interactive applications and support 3D-video.
STiH7 650Mhz, Linux 2.6.23, HDMI 1.4, USB x 2, S/PDIF, LAN, built in WiFi (150Mbps).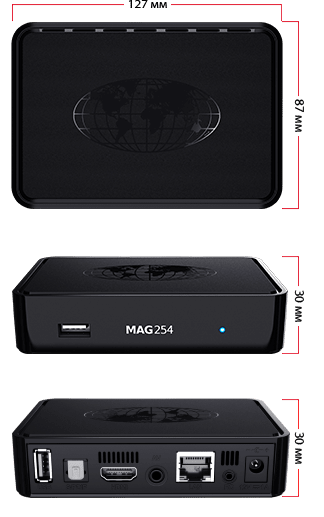 Specifications
Dimensions
| | |
| --- | --- |
| Width/depth/height, (mm): | 127/87/30 |
| Weight, g: | 190 |
Hardware
| | |
| --- | --- |
| Processor: | STiH7 |
| RAM: | 512 Mb |
| Flash memory: | 256 Mb |
Software
| | |
| --- | --- |
| Operating system: | Linux 2.6.23 |
| | Built-in Media Portal with WebKit-based IPTV-functionality HTTP 1.1, HTML 4.01 XHTML 1.0/1.1; DOM 1, 2, 3, CSS 1, 2, 3; XML 1.0, XSLT 1.0, XPath 1.0 ; SOAP 1.1; JavaScript ECMA-262, revision 5; Media JavaScript API; C layer SDK |
| DRM option: | Secure Media, Verimatrix (MAG255) |
| Middleware supported: | Stalker, Netup, SmartLabs, Netris, Beenius |
Interfaces
Audio output S/PDIF HDMI 1.4-output
Ethernet LAN and built in 150 Mbps WiFi-adapter
Sources of media content
| | |
| --- | --- |
| | PC and NAS in local network Stream media protocols (RTSP, RTP, UDP, IGMP, HTTP) USB-devices |
Audio&Video
| | |
| --- | --- |
| Audio codecs: | MPEG-1 layer I/II, MPEG-2 layer II, MPEG-2 layer III (mp3), MPEG-2 AAC (optional), MPEG-4 AAC LC 2-ch/5.1ch (optional), MPEG-4 AAC+SBR 2-h/5.1ch (optional), Dolby Digital (optional), DTS (optional) |
| Audio formats: | MP3, MPA, M4A, WMA (optional), Ogg, WAV, AAC |
| Video modes: | 1080i, 1080p, 7p, 576p, 480?, PAL, NTSC |
| Video codecs: | MPEG1/2 MP@HL, H.264 HP@level 4.1, MPEG4 part 2 (ASP), WMV-9 (optional), VC1 video, XviD; 3D and HD video supporting (up to 40 Mbit / s and above) |
| Video containers: | MKV, MPEG-TS, MPEG-PS, M2TS, VOB, AVI, MOV, MP4, ASF, QT, WMV |
| Image formats: | JPEG, PNG, BMP, GIF, RAW |
| Subtitles: | DVB, SRT, text MKV |
| Playlist formats: | M3U |
Standard set
| | |
| --- | --- |
| | MAG254w1 Set-Top Box with built in WiFi (150Mbps), user manual, power adapter 12V 1A, remote control, in original packaging! |
Additional information
| | |
| --- | --- |
| Country/Region of Manufacture | Ukraine |
| Brand | Infomir |
| MPN | Mag 254 |
| UPC | 702877935606 |
| Audio/Video Outputs | HDMI |
| Max. Resolution | 2160p |
| Product Line | Mag254 |
| Model | Mag254 w1 |
| Media Input Connectivity | Built in WiFi 150Mbps, Ethernet, USB, Wi-Fi |
| Features | Live TV, Sports, FREE Pay Per View Events (PPV), FREE Premium Movies, Newest model MAG 254 with built in WiFi, Firmware Upgradeable |
| Media Streaming | Latest Movies, over 7500 TV shows & movies On Demand, over 3100 Live TV channels, Free PPV Events |