Description
Additional information
Description


Click Here. Double your traffic. Get Vendio Gallery – Now FREE!
Genuine Infomir MAG 250 WiFi IPTV Set-Top Box Media Streamer FULL HD TV 3D Video

**
NEW ORIGINAL RETAIL BOX BRAND
**
**
Shipping from Manufacturer "Infomir" Stock in Ukraine
**
No FREE channels inside !
MAG250 is a key model in the popular MAG series, designed for easy
launch in IP-based networks. The Set-Top Box is designed for ISPs,
OTT-operators and content aggregators that provide services based on
IPTV, OTT and VoD. MAG250 contains a whole set of functions that are in
high demand with operators, such as playback of digital TV channels in
high quality, streaming video support and video on demand.
STi7105 450Mhz, Linux 2.6.23, Composite AV, HDMI 1.3, USB x 2, S/PDIF, LAN, WiFi Ready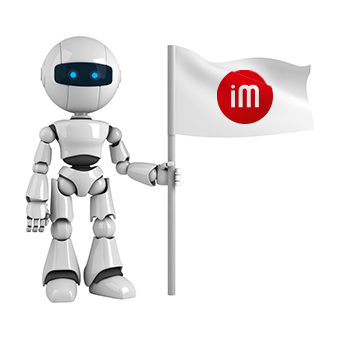 Choose Only The Best
Variety of Content Sources
Your users will appreciate a wide variety of MAG250 content sources: for IP-based operators, from the Internet, local area network (UPnP, Samba) and connected via USB-port external drives.
In-Demand Functions
MAG250 supports all modern audio and video formats, fully supports subtitles, image size settings, the choice of audio tracks and works with playlists.
Safety
The availability of the CE, FCC and UL certificates confirms that all Infomir products are safe for the health and completely harmless for the environment.
Management and Protection
MAG250 has an ability to control remotely, monitor and configure the device through JavaScriptAPI. The set-top box is integrated with content protection systems by SecureMedia and Verimatrix.
The Choice of Leaders
The IPTV Set-Top Box, MAG250 has proved to be successful in 92 countries as the most stable device. It has received recognition of the leaders in the telecommunication market.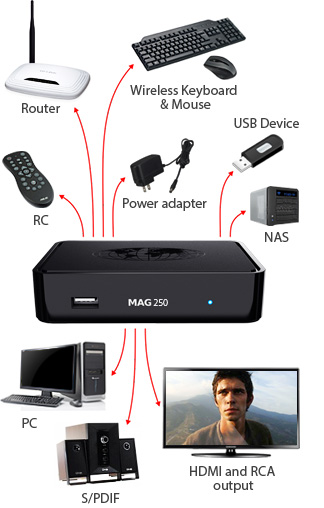 Perfection in Every Detail
High quality of Sound and Image
Thanks to the HDMI port and audio output S/PDIF (for multi-channel High End Systems connection), you get high-quality sound and picture. MAG250 supports all modern video and audio formats (including FullHD).
Flawless Design
MAG250 is a lightweight device with elegant lines, in the classic black color that will fit in with any interior. Device weight: 190 g., height: only 3 cm.
Compatible with Any TV
It is a cost effective solution. The Set-Top Box is HDMI as well as RCA television compatible.
Maximum Comfort
Learning how to manage the remote control enables you to control not only the Set-Top Box, but also other household devices. And you can connect a wireless keyboard and a mouse through the port USB for the convenience of MAG250 management.
.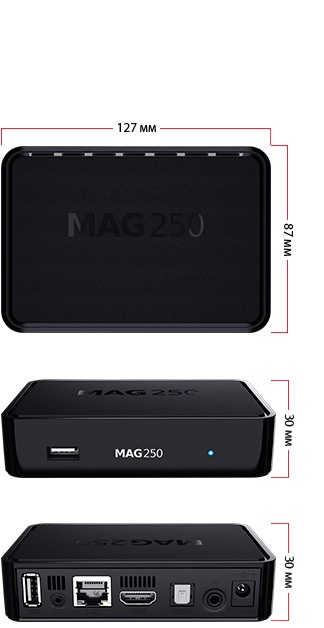 Specifications
Dimensions
| | |
| --- | --- |
| Width/depth/height, (mm): | 127/87/30 |
| Weight, g: | 190 |
Hardware
| | |
| --- | --- |
| Processor: | STi7105 |
| RAM: | 256 Mb |
| Flash memory: | 256 Mb |
Software
| | |
| --- | --- |
| Operating system: | Linux 2.6.23 |
| | Built-in Media Portal with WebKit-based IPTV-functionality HTTP 1.1, HTML 4.01 XHTML 1.0/1.1; DOM 1, 2, 3, CSS 1, 2, 3; XML 1.0, XSLT 1.0, XPath 1.0 ; SOAP 1.1; JavaScript ECMA-262, revision 5; Media JavaScript API; C layer SDK |
| DRM option: | Verimatrix(optional), Securemedia |
| Middleware supported: | Stalker, OFT-Media, Netup, SmartLabs, Netris, Beenius |
Interfaces
| | |
| --- | --- |
| | Audio output S/PDIF HDMI 1.3-output Composite + stereo A/V output Ethernet 100 Mb/s USB 2.0 (WiFi-adapter can be connected) |
Sources of media content
| | |
| --- | --- |
| | PC and NAS in local network Stream media protocols (RTSP, RTP, UDP, IGMP, HTTP) USB-devices |
Audio&Video
| | |
| --- | --- |
| Audio сodecs: | MPEG-1 layer I/II, MPEG-2 layer II, MPEG-2 layer III (mp3), MPEG-2 AAC (optional), MPEG-4 AAC LC 2-ch/5.1ch (optional), MPEG-4 AAC+SBR 2-h/5.1ch (optional), Dolby Digital (optional), DTS (optional) |
| Audio formats: | MP3, MPA, M4A, WMA (optional), Ogg, WAV, AAC |
| Video modes: | 1080i, 1080p, 7p, 576p, 480р, PAL, NTSC |
| Video сodecs: | MPEG1/2 MP@HL, H.264 HP@level 4.1, MPEG4 part 2 (ASP), WMV-9 (optional), VC1 video, XviD; HD video supporting (up to 40 Mbit/s and above) |
| Video containers: | MKV, MPEG-TS, MPEG-PS, M2TS, VOB, AVI, MOV, MP4, ASF, QT, WMV |
| Image formats: | JPEG, PNG, BMP, GIF, RAW |
| Subtitles: | DVB, SRT, text MKV |
| Playlist formats: | M3U |
Standard set
MAG250 Set-Top Box, user manual, Mini jack cable to RCA (A/V), Power adapter 5V 2A (Comes with EU Plug), remote control, 2 AAA batteries, packaging
HDMI cable NOT included !
Additional information
| | |
| --- | --- |
| UPC | Does not apply |
| Media Input Connectivity | Wi-Fi |
| MPN | Does Not Apply |
| Brand | MAG 250 |